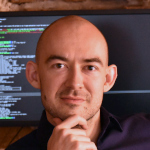 Michal Mazurek
Founder
Yep, it's just me. Working solo and full time on delivering fresh, hand baked, artisanal mentions straight to your inbox.
I graduated Wroclaw University's Computer Science department in 2014 and spent my career as a programmer and systems administrator. I've been programming since 12 and running servers since 14, always with my trusty 1989 IBM Model M keyboard. The highlight of my career was membership in the rigorous OpenBSD project.
In the early days of the internet I wrote a tool to monitor Usenet and IRC for mentions of my handle. And after working for multiple startups and running a few of my own products I learned the hard work that goes into acquiring and understanding the needs of the first few customers. Combined this is the perfect set of skills needed to build Syften.
I live in Krakow and after work (and between COVID-19 restrictions) I like to dance the Argentine tango.