Sometimes we'll walk past a $50 bill, just laying there on the sidewalk. If we're lucky we'll spot it and pick it up.
That's just the type of luck that Jack from Semicolon&Sons had. Here is what he wrote on Indie Hackers:
I was positively shocked this week at how strong a response I got from writing a single comment on Hacker News.

Basically, I was taking a breather from coding and saw someone had just posted a question Ask HN: How do you learn to build substantial, real world apps?.

Considering this is my business, I simply chimed in the following comment, basically saying "THIS IS WHAT I DO" and expecting MAX 2-3 signups:

The comment got upvoted 20 times on HN and I netted about 70 signups.
I reached out to Jack asking if I can share his story here. He agreed and provided me with this additional insight:
Currently paying about $2/signup on my best paid channel (reddit). So one comment (70 signups) was worth $140 to me.
Works for me, too
In the discussion that followed someone mentioned Syften: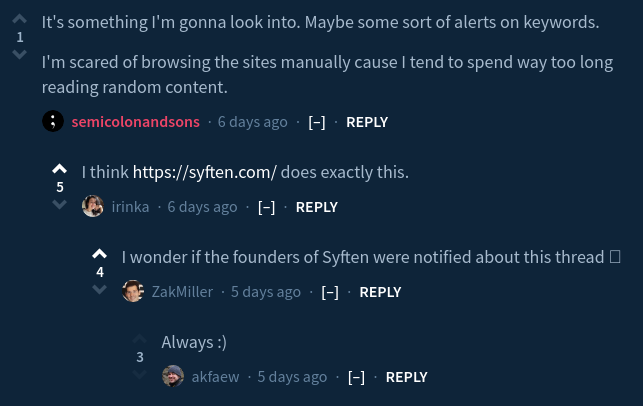 I can't compare that to the 70 signups that Jack got. But as you see the comment got a fair amount of attention. And based on the emails I received at least three new trials were started as a result.
As well as others
Simple Analytics share their stats openly. Here is their traffic analysis (read more):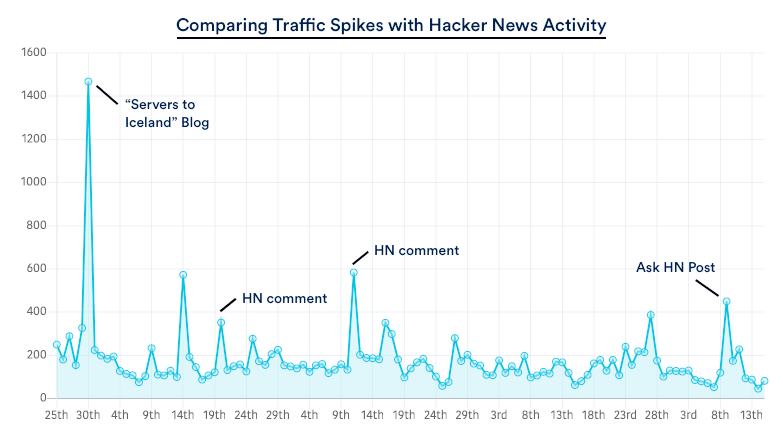 Summary
Opportunities like that present themselves all the time. But to get lucky you have to:
Spot them. How many $50 bills have you walked past without noticing?
Reply authentically. Everybody loves to buy, but nobody likes being sold to.
Post early. Most users only go through the comment section once.
Resources