Everybody knows that great artists steal. I even stole this post's title from saasmarketer.io. So let's try to figure out the answer to a most pressing question: what will you be stealing?
Working on your product can be exhausting. So why not get some help from your competitors? By tracking their posts you can get new ideas for your product and learn how they're dealing with their problems. Any why limit your tracking to just them, you can also keep tabs on colleagues who work on products in different areas.
Monitoring competitors
I noticed that every time someone mentions Syften on Reddit, some guy comments asking people to try NotifierForReddit: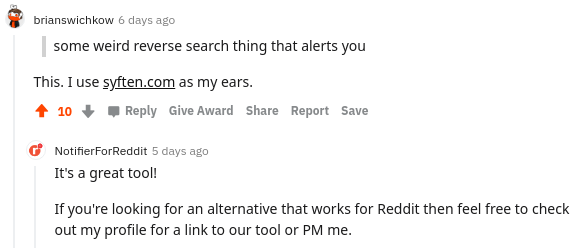 Every time!
I was curious about what else he was up to, so I listened to all of his posts:
notifierforreddit
  author:notifierforreddit

Then one day I saw this ad:

Looks familiar? This is my landing page: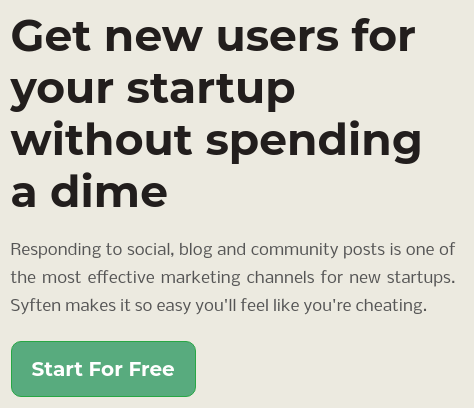 While I can't say this is of any practical importance, it's good to know what others are up to.
Naturally, I'm monitoring a bunch of topics related to social listening. One day this showed up:

Maybe he knows something I don't? Maybe we can work together? At the very least I can reach out.
Becoming a master of marketing
These days a university degree in anything related to tech is outdated the day after you receive it. The same can be said about books. So how can you stay on top of your game?
No doubt while hustling you've met other hustlers. Learn all the new tricks from the best by keeping tabs.
By monitoring all posts and comments by marketers better than me I'm able to build my own playbook. That's also how I got some of my cool case studies.

Learning how Tom Hunt does it
Summary
The internet world is a constant earthquake and you better learn to adjust fast. The easiest way to do that is to learn from friends and competitors.
Resources