There are approximately 330 million Reddit users. Users that are famous for hating marketers. A community that you cannot bullshit.
Are there people who had luck marketing on Reddit? If so, how did they do it? Is it worth it to brave the Reddit snark? What type of results can you expect?
We've all seen plenty of these:

Four days and no upvotes? Why even bother?

Ouch, wouldn't want that.
Can we turn that into this?

That's more like it.

Unremarkable but repeatable. Honest pay for honest work.
If you can't be active, Reddit isn't for you
There is no magic trick here. To market on Reddit you have to join Reddit.
Age your account. Register now if you don't have one.
Find 1-3 relevant and active communities that you will enjoy.
Before doing any promotion accumulate karma points. Get at least 100 upvotes in those communities. Most won't remember you, but this gets you familiar with that subreddit's culture. It will also give your account some validity (more on that below).
And remember: "It's perfectly fine to be a Redditor with a website, it's not okay to be a website with a Reddit account."
Keep your history clean
What do Redditors do when they're suspicious of someone's intentions? They go through their history to get to know them better.
If you want to attach your professional persona to your old Reddit account you have to go back in your history and delete anything dodgy.
No more than one promotional content per page of Reddit history.
Delete any promotional submissions that failed to get upvotes.
Post a promotional post in the same subreddit no more than twice a month.
After posting stay around and reply to comments.
A few phrases to try
When you post make sure that nobody needs to visit your blog. But of course, make sure they know it exists. Treat other people like you'd like to be treated yourself. They're just as intelligent as you are and will see through your intentions just as well as you see through the intentions of others.
Here are a few phrases you can start your post with:
"Note: There are screenshots that accompany this content but I can't post them here". Nevertheless, include links to those screenshots in your Reddit post.
"I suck at Markdown. You can read the article on my better-looking blog here". But still do the best you can.
And to change that "oh, he wants me to click, better be careful" to "that was enlightening. Oh, there may be more?" you can use these at the bottom:
"If you found this post through Google you can find an up-to-date version on my blog" or "As I do more research I'll update this post on my blog".
The official guidelines of /r/SaaS, for example, say: "The only way a link is allowed is at the end of the post ("Originally posted here")".
And when writing replies it's vital to be helpful. If you have a blog post that answers a particular question go ahead and paste the relevant paragraph. Only then add: "I've written more on that topic on my blog here".
Additional advice
Here are a few additional protips from an old growthhackers.com thread:
23% of my traffic comes from Reddit. The challenge is to keep providing value without seeming spammy. You can only do so many AMAs, case studies, etc.
The types of stuff that works well there is being personal and telling a good story + really giving value to the community. They love stories about how you got started, what tactics you're using, and also drilling into the metrics/financials. There are a lot of "me too" types on Reddit, that just want to try & replicate the success of others.
What I learned, is essentially you gotta love Reddit to use Reddit for growth. If you hate it or feel like an outsider, then it will be hard to get in because you'll stick out like a sore thumb.
You can't just jump on Reddit one fine day and post your stuff. The community hates it if you use just the forums to promote your own agenda. Even a free eBook or free product will get downvoted if you haven't built up karma.
We're keeping an eye on reddit.com/r/sales (our product is a CRM for salespeople). We engage with helpful short comments and add a link to one of our blog posts that provides a more in-depth answer.

It's a very plain and basic strategy: it doesn't take a lot of time, and it doesn't generate a lot of results, but it's good enough to keep doing it, and it's yet another way of gathering content ideas. (And it's great when people use your content and succeed with it, I find that on Reddit they often get back and tell you about it.)
I've seen people saying they added a link to their blog only after the post gained 50 upvotes, or that they bought the initial 50 upvotes. To me, that feels dirty, but you should know that some report success with these approaches.
Exceptions to all of that
Forums are just people, and every person is different. Here are a few exceptions.
100 Growth Hacks
Some appreciate good marketing, provided it's relevant to the community. Like this promotional post on /r/startups titled 100 Growth Hacks Learned from 5 Years as a SASS Startup. It got 200 upvotes and these replies: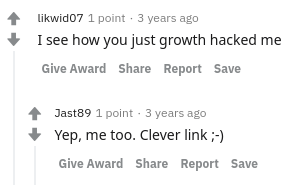 It included just 50 of the 100 hacks, and this is the link they're talking about:

MarketingExamples.com
Harry Dry from marketingexamples.com is very active on Reddit and most of his submissions are self-promotion: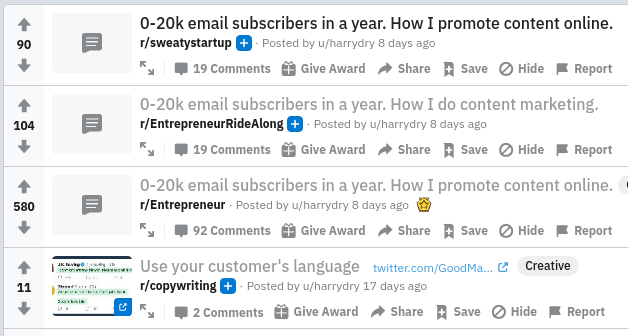 And yet he boasts 21,000 mailing list subscribers.
Read more about what his marketing looks like.
How can they get away with that?
Remember the main lesson from How to Win Friends and Influence People: everybody wants to feel important.
On a programming subreddit, some will get the feeling of importance by asking questions and having someone fix their problems, while others can show how smart they are by giving a detailed solution. Links to your blog will taste foul there.
On a photography subreddit, some will feel good by having others look at their creations, while others will tell them how overexposed the photo is and how to improve the sharpness.
But in a marketer community, it's possible to get that feeling by being the judge of other people's efforts. "I see how you just growth-hacked me".
While Harry's method works well with marketers it doesn't go well with copywriters:

So, do Redditors really hate marketers?
As we have seen, some Redditors are marketers. It really depends on the subreddit. That's why it's important to dedicate some time to experiencing the culture.
As long as you add value everything is fair game.
Tips and Tricks
Resources